Five major market AMs and FMs consolidate into one brand-new
all-digital all-SAS plant…
When Infinity Radio—now CBS Radio—needed new facilities for their Los Angeles and San Francisco stations, the several engineering managers each critically evaluated the available offerings. SAS was the unanimous choice.
The CBS Los Angeles Wilshire Broadcast Center consolidated five stations into one brand new facility. The three major FMs—KLSX Free-FM, KTWV The Wave Smooth Jazz, and KRTH K-EARTH 101—were first to move, beginning in April 2005. Over the summer, Los Angeles' two all-news stations—KNX and KFWB—completed the build-out.
FM and AM have separate Master Control/TOCs, interconnected with tie lines and cross-control.
FM Master Control: The original configuration consisted of three SAS 32KD frames, each fully populated in a 512x512 configuration, networked using the SAS dual counter rotating ring fiber ANI Audio Network Interface for a total of 1536x1536. A fourth frame was recently added to provide I/O capability up to 2048x2048. Allocating each station's I/O and control across more than one SAS frame allows for distributed liability; for example, a station's main and backup air studios are on different frames.
KRTH and KTWV Air Studios: KRTH and KTWV are both music stations. Each has a main air studio and identically-equipped backup/production studio utilizing the SAS 32-slot Rubicon Broadcast Console Control Surface with two RIOLinks providing 64 channels of local audio analog and digital I/O.
KLSZ/Free FM Air Studio and Control Rooms: Free-FM is talk, with a separate air studio, air control room, and screener booth. The talk studio is extensively built-out to handle the origination of the Adam Carolla Show, syndicated to a wide number of west-coast stations. Host and Co-Host positions have SAS turrets with mic, monitor, headphone, talkback, and delay control. Additionally, the Co-Host position is home to a Ruib-T Mini Mixer for in-studio effects. The Free-FM control room is the cockpit, with an SAS 32-slot Rubicon. A second room, also with a Rubicon 32, serves as on-air backup and production.
FM Production Studios: Two production studios for each station, each equipped with an SAS 24-slot Rubicon and two RIOLinks. All studios have extensive intercom to other studios and locations in the facility.
KNX and KFWB: Los Angeles' two AM All-News Stations: KNX and KFWB are identically equipped, with one shared backup air studio.
AM Master Control: Similar to FM Master Control, with three SAS 32KD frames.
AM Live: The main studio/control room is home to the two or more live anchors, working a Rubicon 40 slot and Rubicon 8 slot console, configured as one large consoles in two sections, with separate monitoring. Adjoining each studio/control room are four mini rooms for live traffic, sports, business, and inside reporters. In these rooms, the reports edit their segments and go directly live to air.
AM Talk: Each station has a separate talk studio and associated control room for telephone talk. KFWB is the flagship for the Dodgers baseball team, using the talk studio for pre- and post-game shows. The AM talk rooms use a Rubicon 32.
AM Production: Pro-Tools based room with a Rubicon 16 for imaging and commercial production.
Integration: By the Infinity/CBS engineering team led by Lynn Duke, Engineering Manager, KLSX/KTWV/KRTH, Paul Sakrison, Chief Engineer, KFWB/KNX, and Scott Mason, Director of Engineering, West Coast.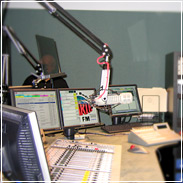 KRTH Air Studio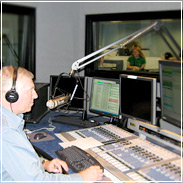 KFWB Anchor 1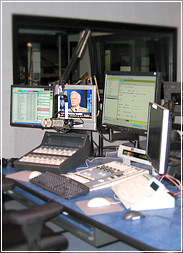 KFWB Anchor 2