From basic 32x32 stand-alone analog or digital, to large high-speed networked multi-frame digital routers moving thousands of audio channels.
The first Sierra Automated Systems audio router quickly became the industry standard for performance, quality, and reliability. Many of these are still on the air, as studio-to-air chain routers, providing traffic reports to dozens of stations in a market at a time, routing ISDNs and codecs.
Routing has essentially replaced patch panels in the broadcast plant. The largest of the Sierra Automated Systems routers switch many thousands of audio sources among dozens of studios across a multi-acre campus connected via fiber. Another brings together the sound from the many scattered venues of the Olympics and sends it to affiliate stations in the form of a tightly edited program or news feed, while at the same time providing the essential behind-the scene intercommunication. Film production companies use Sierra Automated Systems routers in the editing suite; movie soundtracks are made up of many many layers of sounds stored on all sorts of medium.
Extensive automatable control—of routing, switching, mixing, cross-fades, and much more—via serial, IP, or Sierra Automated Systems' own Automation software package, make Sierra Automated Systems routers adaptable to almost any application.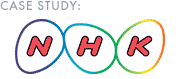 NHK JAPAN
Sierra Automated Systems converts Japan's large government broadcasting organization to an all-digital computer automation-controlled infrastructure...