SAS converts Japan's large government broadcasting organization to an all-digital computer automation-controlled infrastructure…
In a joint project with Jutel (Finland) and IBM Japan, SAS supplied NHK with a digital radio technology infrastructure to move Japan's largest public broadcaster from analog to all digital.
The core of the digital conversion is the SAS 32KD Digital Audio Network Mixer/Router operating under automated system control from the Jutel Radioman R5. The 32KD router intakes signals from NHK's many studios, outside sources and automation playout, performs automated transition control—cross-fades and v-fades—and delivers the end product to the multiple program airchains.
This level of automation is accomplished by taking advantage of the SAS automated transition control, which can perform any type of fade as requested in real-time via serial interface.
Japan's First High-Definition Outside Broadcast TV Truck
Following the success of the radio project, NHK installed a pair of SAS 32KD Routers in two OB trucks used for remote television hi-def broadcasting. The 32KDs are interconnected via single fiber utilizing the SAS ANI Audio Network Interface, which links the frames with more than 750 channels of mono, stereo, and 5.1 surround audio.
System control is via the SAS Router Control Software. Once the fiber connects the two trucks, each truck has full control access through the fiber ANI Network to all sources from both trucks, and the ability to control any output or groups of outputs in either frame.
About NHK
The company provides multiple both Terrestrial and Satellite services with international coverage for journalism, education, entertainment and others. It is the biggest broadcaster in Japan, and is considered to be one of the world leaders within the broadcasting community.
NHK (Japan Broadcasting Corporation), Japan's sole public broadcaster, introduced a radio service in 1925 and a television service in 1953. NHK is financed by the receiving fee paid by each household that owns a television set. This system enables the Corporation to maintain independence from any governmental and private organization, and ensures that the opinions of viewers and listeners are assigned top priority.
Sound Craft Inc.
SAS is represented in Japan by Sound Craft Inc., Tokyo, who provided the technical support and liaison to NHK for these projects.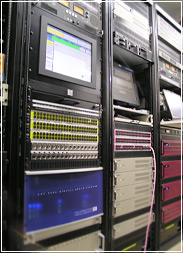 SAS Network Router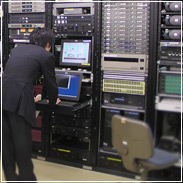 Network Control Center