Until Rubicon, consoles came in only two flavors: simple but limited, or so powerful and complex even seasoned DJs or operators could be overwhelmed. The SAS range of broadcast console control surfaces answers the call with a clean and open layout that operators love.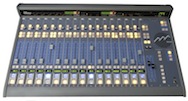 Download PDF
[1.4 MB]

M Class opens the doors of SAS console ownership to everyone. Engineered from the ground up to be affordable, yet still worthy of the SAS name, the M Class sets new standards in console design, engineering and price.

The M Class console was engineered to have the same eye-catching design and ease-of-use as the Rubicon family of consoles, but cost thousands less. Yet, its feature set eclipses most analog consoles so it's the perfect choice when it's time to refurbish studios. M Class is powered by the award winning RIOLink, the very same unit running SAS Rubicon consoles in New York, Los Angeles, Chicago and every other top radio market in the U.S., so you can feel safe knowing the quality and reliability will be there for your stations.

Download PDF
[2.9 MB]

Rubicon, the flagship Radio Broadcast Console Control Surface for major market radio stations and networks. For the board op, Rubicon strikes the ideal balance between ease-of-use and utmost power. Frequently used controls are always right at hand, while the Sierra Automated Systems multi-function control system provides quick access to deeper capabilities.

Rubicon is a completely modular surface, available in frames from eight to 40 modules wide. Modules include Input, Control Room Monitor, Studio Monitor, Console Control, Intercom, Remote Control, Delay Control. 10 buttons on the top of each input module that are programmable as hot-source select, bus assigns, or remote control triggers provide extreme flexibility for the most demanding shows. IFB/talkback on each input modules talks back to the source currently selected. Mix-minus to an unlimited number of devices is fully automatic; no need to dedicate separate output buses for mix-minus.

Download PDF
[2.0 MB]

Rubicon-SL is a reduced-feature version of Rubicon designed for less demanding studio applications. SL has the same look and feel as Rubicon, and is built with the same rugged components. Rubicons and SLs can co-exist in the same system.

SL provides full router source select, four mix buses, an unlimited number of automatic mix-minus buses, mode, pan/balance, and IFB/talkback on each input module.

Download PDF
[1.8 MB]

Rubi-T Mini Console Control Surface, new from Sierra Automated Systems. It's just 6" high, yet packs much of the power of its bigger brothers Rubicon and SL. Configure Rubi-T with as many or as few modules as you require. Rubi-T's input module features a full-length P&G fader, channel ON/OFF, and four programmable source select, bus assignment, or cue buttons. Additional modules provide monitor and headphone source select and level control, intercom/talkback, delay control, remote trigger control, clock/timer, and metering.